Smart and Sustainable Agriculture Research Division (T-PIRC Farm) utilizes its intellectual, human, and physical assets to not only provide practical training for academic departments and research support for individual laboratories, but also to conduct educational and social contribution activities while interacting with Tsukuba City and various communities in and outside Ibaraki Prefecture.
Rehabilitation for returning to work day care program in agriculture
Since October 2013, T-PIRC farm, in collaboration with University of Tsukuba Hospital, has been offering a day care program for rehabilitation (rehabilitation for returning to work) using farm work.
"University of Tsukuba Primrose cultivars Foster Parents Association" and Publication of the collection of primrose cultivars
The T-PIRC farm is one of the world's leading genetic resource repositories, holding approximately 350 strains of primrose cultivars.
For the purpose of conservation and maintenance of the valuable primrose cultivars, University of Tsukuba and NPO Tsukuba Urban Gardening (TUG) jointly established the " University of Tsukuba Primrose cultivars Foster Parents Association" in February 2005, a foster parent system based on cooperation by citizens, and have been working with citizens to conserve the genetic resources of precious primrose cultivars.
In addition, every year we co-sponsor the " Primrose exhibition " with Tsukuba Botanical Garden to show the public the primrose cultivars that we have and to communicate their value.
This exhibition also features "Sakurasou Kadan" a traditional display method that has been in use since the Edo period.

Local litter cleanup and environmental maintenance
T-PIRC Farm sets up "Environment Day" twice a year to pick up trash in the community together with all faculty, staff, students, and users.
In addition, to promote the beautification of the grounds, we also prune and clean dead trees, and remove hazardous areas as soon as they are discovered.
Through this activity, we contribute to the local beautification promotion campaign with environmental awareness in mind.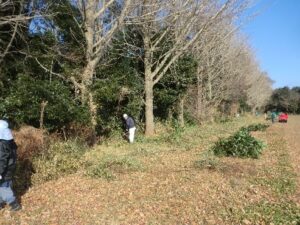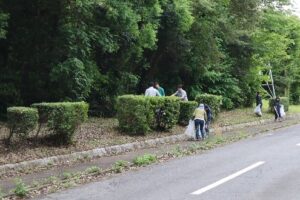 College of Agro-Biological Resource Sciences Practical Trainings, College of Biological Sciences Practical Trainings
In addition to practical trainings in the spring and fall semesters, the T-PIRC farm's grounds and facilities are utilized for distinctive intensive practical trainings, which is part of the college's educational activities.